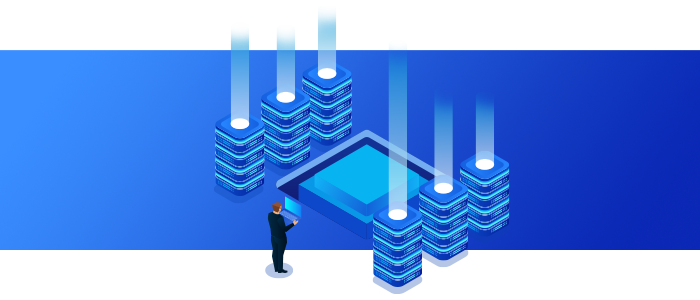 One thing the pandemic taught businesses is the fact that it is important to move with the times, adopting and adapting to some of the latest technology. While you don't have to be the first one in the market to invest in the newest technology, once its effectiveness and usefulness is proven, it does make sense to consider a switch. Here's how the cloud allowed businesses to overcome the challenges posed by having to suddenly switch to the remote operations model.
Challenge-1: Access to critical data and applications
For those who had already begun the switch to cloud or had secure remote access to their networks established, remote work was made easier. The cloud offers unparalleled connectivity to your data—from anywhere and at any time, with internet-enabled devices.
Challenge-2: Data safety, cybersecurity concerns
The cloud provides solutions to data safety and cybersecurity challenges as well, since if configured properly, data stored in the cloud tends to be safer and more difficult to break into than data stored on your employee's home computer. The cloud offers multiple layers of security, including some provided by the cloud service provider.
Challenge-3: Data loss
With the cloud, businesses could have data in a centrally managed location and secured against unauthorized access. Furthermore, they were able to provide secure backup solutions more easily than if it was stored on their employee's personal computer.
Challenge-4: Hardware issues
The cloud decreased hardware overhead, as end user devices were just gateways to access their work stored in the cloud. Devices that meet basic specifications are able to perform well because processing work was happening online, without additional load on personal devices.
Challenge-5: Phones
Businesses that had adopted VoIP (Voice Over Internet Protocol) were able to overcome this challenge easily. VoIP allows you to communicate by sending voice as data packets using the internet. A VoIP system is primarily software-based and can be accessed from anywhere, using an application that your VoIP provider offers. (Physical instruments are optional). This meant, companies with VoIP systems could keep their office phone numbers responsive even when their staff were working from home. The added benefit to this is that when outbound calls are made, the company information is displayed to the call recipient, rather than personal mobile or home phones. Those that had adopted UCaaS (Unified Communication as a Service) had phone, presence, chat, video conferencing all built into a single cloud-based application that further streamlines communication among your team and clients.
While these technologies can help a great deal to maintain business continuity, you will need the assistance of a reputable MSP to deploy them and also to ensure they are functioning as they are supposed to. Additionally, there are always security concerns that crop up in a remote working environment when you can't monitor your staff's IT activities. Your MSP will be able to offer solutions and enable control mechanisms that can help put those concerns to rest.